Hello! Long time no see!
I had this post scheduled for this morning, but it did not go up as planned… in fact, I had two separate posts…
C'est la vie! Once again Blogger wins!
The first post this morning was for the new Monday Feature at MyGrafico.
We had the pleasure of working with this set of images from Cheri Wenger:
I found the coolest creative blog called "Crafty Blonde" over the weekend and some of her tutorial videos and cut files are the best I've seen! I grabbed her "Lacey trim egg shaped cards" file from THIS post and colored one of Cheri Wenger's bunnies with Paint.NET.
Here's the end result:
I cut the file on my Cricut Expression with SCAL, using cheap Georgia Pacific cardstock. Then spritzed it with my "home made" glimmer mist, using "Interference Violet" PearlEx. The yellow panel is embossed with the Sizzix Paisley folder. The double bow was made with my Crafters' Companion bow maker! The display easel is from the SVG file I shared last week!
I really do love everything about this card!
---
The second part of my post today is a reminder to play in the challenges at the Latte Lounge!
There is still one week to join in Jen's Coffee and Cream Challenge!
The challenge is being sponsored by Fresh Brewed Designs!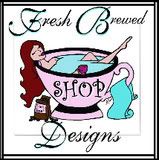 Heather generously provided a terrific image for this challenge and here is a card I made:
I used Prismacolor Pencils to color, the patterned paper is DCWV and the sentiment is a rub-on I got from my friend Melissa for my birthday!
Only one other thing I'd like to mention!
This Saturday, we are having a Digi Day at the Latte Lounge!
If you have never attended one of our Digi Day events, you're really missing out on a good time!
And if you have joined us, you KNOW how much fun it will be!!
Hope to see you there!