This is how my day got started this morning:
How am I supposed to function with no internet?
Now that it appears to have fixed itself...
We are starting off with some reminders:
Today is the last challenge for April.
That also means you only one week left to participate in the
with a PARTY!
We are having a party at The Latte Lounge:

The party will be where we have
prizes, challenges and release the stamps.
Also, our DT will showcase lovely projects
Blog hop May 4-7

Save the dates!!!
Hope to see you there!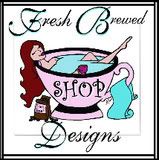 MOCHA MANIC MONDAY is this coming Monday, May 2!
Don't forget to stop in and check out the shop for your freebie!!!


Now it is time for this weeks Freshly Brewed Challenge.

We hope you will celebrate this week with us and the world
as we focus on all things wedding themed
in honor of the Royal Wedding of Prince William and Kate Middelton ...

Heather has created three new digital stamps for this challenge.
I have used the BRAND NEW "Just Married Sign"
I printed the image twice, once on DP and once on white.
Colored and cut the banner, bells and daisy out of the white
and paper-pieced it on the Colorbok DP.
I love these little rosettes and how they add so much
to a card without making it too thick or bulky.
I don't remember where I got the cut file for this one,
but it's basically an 11" strip, about 2" wide.
You could even cut it with pinking shears or any other pattern.
Zig-zag fold and glue the ends.
Push down the middle and stick it to a circle on the bottom.
Add a little topper and voila... just right!
The Fresh Brewed Crew has made some
great cards for inspiration this week!
You'll want to pop on over and see all the ways
we have used Heather's new stamps!
We are looking forward to seeing all your Wedding Cards